This is a follow up to my post about the REI Bedford Announcement, back in Fall 2022.
REI announced in November 2022 their second NH store would be in Bedford NH. The first NH REI store opened in North Conway NH in 2019, but it's not convenient unless you live in the North Country.
The Bedford NH store will be convenient for a lot of hikers who live near Bedford, Manchester, or Nashua.
The new store in Bedford NH is expected to open in Fall 2023. I stopped by the other day to see how the construction is going.
The store front does not look like the concept drawings done by Encore Enterprise for the Market & Main development project. The concept drawing looked a lot cooler, IMO. You can see from the photos I too today the new store looks like a standard big box store. Oh well, you can't have everything.
REI Bedford NH – May 24
Driving To Hikes In NH
The hot spot for hiking in NH is by far the White Mountain National Forest. The rest of New England does not even come closes to the amount of hikers the Whites sees. Take a look at the TrailsNH Coverage map above.
Hikers from New Hampshire and Massachusetts will drive up I-93 most of the time to get to the Whites. Neither Bedford NH or N. Conway are in route for most hikers.
After my hike, I don't want to head into North Conway either. I avoid it when ever possible, because traffic is a mess. Town is full of tourists, with basically just one way to get in and out.
Interior Shots From March '23
NH State Senator Denise Ricciardi visited the construction site in March 2023. This is Ricciardi touring the building. At that time dry wall was up, and concrete floor was poured. Just the shell of a store, so far.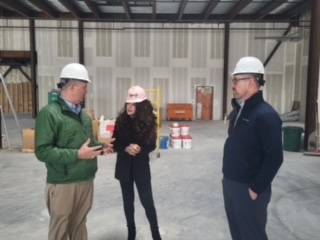 Photo credit https://www.denisericciardi.org/